Turkish ex-army boss Basbug sentenced to life for Ergenekon overthrow plot
Comments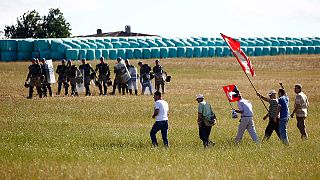 The former Chief of Staff of Turkey's military, Ilker Basbug, has been sentenced to life behind bars for his role in a plot to overthrow the government known as the Ergenekon conspiracy.
The retired General was one of 275 defendants in the case. Dozens of others, including several opposition MPs, military figures, academics and journalists, were given prison sentences ranging from 12 to 35 years. 21 of the accused were acquitted by the court.
Prosecutors say a network of secular nationalists formed the Ergenekon plot to overthrow the Islamist-rooted conservative government of Prime Minister Recep Tayyip Erdogan. The group is accused of planning a campaign of killings and bombings to trigger a military coup. Prosecuting lawyers have called for life sentences for 64 of the defendants. But critics of the trials claim the criminal charges are simply a means of stifling political opposition to Erdogan's AK Party, and have alleged that the judiciary has been put under pressure by the government to find the defendants guilty.
The case has polarised opinion across Turkey, and critics including the main opposition party claim they have not been given a fair trial and the charges are politically motivated.
The European Commission initially welcomed the investigation into Ergenekon, lauding it as an effort to combat the 'Deep State', an underground network of secularists thought to have been manipulating the political class and undermining democracy in Turkey for decades. The Commission has since echoed criticism claiming the trials had gone too far.
Last year, a Turkish court handed down prison sentences to around 300 army officers who had been found guilty of another plot to overthrow the government, a conspiracy known as 'Sledgehammer'.