New Iranian president approaching foreign policy opportunities
Comments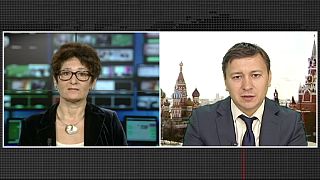 Iran's new president, Hassan Rohani, elected on 14 June, takes up his functions officially the first weekend of August. The moderate cleric promised his supporters that his victory would alter Iran's relations on the international stage. Powerful capitals are waiting to see how. Rohani campaigned saying he would work to lighten foreign sanctions which are stifling his country. Achieving that has to mean making concessions on Iran's nuclear programme.
As Tehran's nuclear negotiator with the West in 2003, Rohani already had a temporary agreement by which Iran would suspend its enrichment of uranium, which others thought was meant for weapons development.
Russian President Vladimir Putin has plans to go to Tehran in mid-August, to try to crank nuclear negotiations back up. Russia and Iran have been getting friendlier with each other since the 1990s.
A Russian company finished building the Bushehr nuclear station in 2010. Moscow might help Tehran build more.
They want to get more trade going – notably in arms, wheat and oil – which the sanctions made suffer. Iran-Russia bilateral trade fell to around just two billion euros last year, which was 40 percent less than the year before.
Both sides also agree they want the Assad regime in Syria to continue, and they're concerned that Syria might become pro-Western.
So, Russia appears the best-placed country to mediate nuclear talks, though the Supreme Guide Ali Khamenei makes the final decisions for Iran – that will not be President Rohani. But Khamenei seems ready to give some ground in the interest of protecting his country's political power structure.
We asked Anton Khlopkov, a specialist on Iranian politics and the president of the Centre for Energy and Security Studies in Moscow, if he thinks there will there be any changes in relations between Iran and other countries?
Marina Ostrovskaya, euronews: "Ruhani is considered a centrist if compared with the conservatives. But are the centrists really different? What changes can we expect in Iranian policy with the new leader at the top?"
Anton Khlopkov: "Taking into consideration the promises made by Hassan Ruhani during his election campaign, looking at the conditions of his election I think we can expect him to continue or return to the policy of reform started during the time of presidents Rafsanjani and Khatami. Without doubt today in Iran, getting out from under the sanctions implemented against Tehran is of huge importance. Of course, in this context the search for solutions in the Iranian nuclear crisis has to become the priority for the new president in the immediate term. We know that when Ruhani was in the post of leading the negotiating team, progress between Iran and the European "troika" was achieved. But we have to be realistic. Just before the presidential elections I visited Iran and spent 10 days there. I saw that nobody anywhere believed that Iran had to stop its development of nuclear technologies."
euronews: "Russia occupies a special place in the foreign policy of Iran. Ruhani underlined this in his response to Russian president Vladimir Putin after he won the election. Is it really a "special" place and what does it signify?"
Khlopkov: "Russia and Iran have a very deep history of dealing with each other. What's more, they are neighbours. That's why Russia and Iran have a wide range of mutual interests in the field of security. Of course, the countries have the same trade and economic interests. All this determines Russia's place in Iranian foreign policy and vice-versa – Iran's place in the foreign policy of Russia."
euronews: "Russia has strong cooperation with Iran in fields that the West sees through a prism of sanctions, such as arms delivery, building infrastructure and nuclear facilities. Is Moscow losing international credibility?"
Khlopkov: "First of all it's necessary to underline that the reasons for which the Security Council imposes sanctions are not related to cooperation in the field of military-technical business with Iran, nor cooperation in the peaceful use of nuclear energy. And it's important to mention that in the field of military-technical cooperation Russia has gone much further than what is in the framework of Security Council resolution 1929. That's why, to me, it makes no sense to talk about Russian-Iranian cooperation in the military-technical field and in the nuclear field in terms of a violation at least in the atmosphere of ongoing negotiations."