Australian billionaire given go-ahead for world's largest dinosaur park
Comments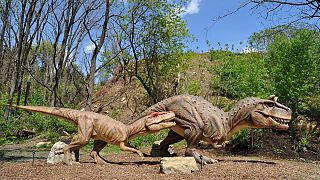 Billionaire businessman Clive Palmer has been granted approval to build the world's biggest dinosaur park.
The Australian will build the park within the grounds of his Coolum resort in Queensland, after a unanimous vote of approval was cast by the Sunshine Coast regional council on July 25.
Noise and environmental concerns, as well as certain height restrictions on the dinosaurs, were among 30 conditions Palmer will be expected to meet. Approval was granted based on an agreement to limit the height of the dinosaurs to a maximum of six metres, with the exception of a Ruyangosaurus, which will tower above the rest at a staggering ten metres tall.
The 149 new life-size dinosaur models will feature alongside pre-existing resident Jeff, an eight-metre tall T-Rex, and Palmer's vintage car museum.
Palmer's plans received nearly 200 objections, in particular concerning parking, noise and the potential devaluation of the area following the park's opening. However, the council ruled that there would be no detrimental effect on the character of the area. According to minutes from the council meeting:
"The vintage car museum and the dinosaur park would establish new tourist exhibits to attract patrons to the resort."
They continue to state that "The new attractions are internal to the resort and would, therefore, not impact on the character of the area."
Image credit: Lehigh Valley, PA on flickr