Weiner to stay in New York City mayoral race, despite new 'sexting' scandal
Comments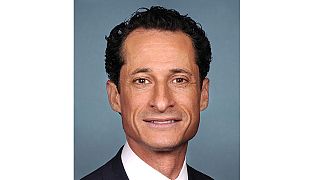 Mayoral candidate for New York, Anthony Weiner, said on Tuesday that he would continue to run despite new revelations of sexually explicit online photos and chats. These lewd messages are said to have been sent after the online sex scandal that cost Weiner his seat at Congress in 2011.
"I want to bring my vision to the people of the city of New York. I hope they are willing to still continue to give me a second chance," Weiner said during a news conference at the Gay Men's Health Crisis headquarters, where he had a previously-scheduled engagement.
Gossip website TheDirty.com alleges that a series of suggestive messages and images between "Carlos Danger" and a young woman in her early 20s can be attributed to Weiner.
The former Democratic Congressman admitted the truth of some of the allegations claiming that "some things that have been posted … are true and some are not."
"I said that other texts and photos were likely to come out, and today they have," he said in a statement on Tuesday.
According to the website, chats between Weiner and the young girl ran from July 2012 through to early 2013. The mayoral candidate admitted to sending some of the messages after his 2011 resignation.
Weiner's wife, Huma Abedin, also spoke at Tuesday's press conference, pledging her continued support for her husband: "I love him, I have forgiven him, I believe in him, and as he has said from the beginning, 'We are moving forward'." Abedin is a close aide to the former US Secretary of State, Hillary Clinton, who famously stood by her husband former US President Bill Clinton, following the Monica Lewinsky sex scandal. Many people believe that this support helped to rescue his political career.
With less than two months to go before the September 10 Democratic Primary, Weiner's opponents have been quick to comment on the news of Weiner's sexual exploits, with some calling for him to stand down as mayoral candidate for New York City:
"The sideshows of this election have gotten in the way of the debate we should be having about the future of this city. And yes, I'm talking about Anthony Weiner. Enough is enough," said Bill de Blasio, who is ranked last in the mayoral race.
Placed third in many of the polls, candidate Bill Thompson described the incident as "deeply disturbing" and told Reuters that "Anthony Weiner needs to think of the people of the City of New York first and not of himself."
Although recent public opinion polls show that Weiner is tied in first place with City Council Speaker Christine Quinn, many voters claim to have an unfavourable view of him and the latest revelations could certainly jeopardise Weiner's campaign.
With Reuters.