'No target, no identified project' as Vikernes and wife's custody is extended for 24 hours
Comments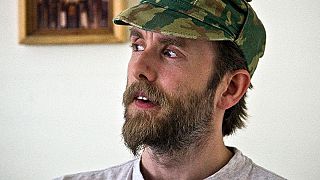 The police custody of far-right Norwegian black metal star Kristian 'Varg' Vikernes and his French wife Marie Cachet has been extended by 24 hours, judiciary sources told news agency AFP. They were arrested on Tuesday in southwestern France.
In French anti-terrorism investigations, suspects can remain in custody for up to 96 hours, including 72 hours without a lawyer.
Vikernes, 40, and his wife, a 25-year-old French national, were arrested by officers from the Central Directorate of Interior Intelligence at their house in Salon-la-Tour, France, and taken to custody at a nearby police station.
On Wednesday morning, Norwegian news website NRK reported there is no longer a police presence at the house Vikernes and Cachet share.
The Interior Ministry stated on Tuesday that Vikernes "with close tie to the neo-nazi movement" was considered "likely to carry a large-scale terror act" and thus "constituted a potential menace". To justify the arrest, they also mentioned "violent speech intercepted on the web".
French news website Le Nouvel Obs reported that the Central Directorate of Interior Intelligence decided to act after a blog post Vikernes wrote on July 13 commenting on the Bretigny train crash, which occured south of Paris the day before.
In the blog post entitled 'Heros' and illustrated with anti-Semitic cartoons, Vikernes attacks "The 'French' president, the (sic) Jew Mr. Hollande,", the media and "criminal non-European scum " making up "the gang of 'youths' standing nearby ready to rob the passengers when [the train derailed]".
Soon after the train crash, there were reports of looting and attacks on victims and first responders. They were quickly dismissed by local authorities and emergency services at the scene.
Vikernes then urged "Europeans" to "revolt" adding: "It must stop; we must take actions to end this: Before it is too late."
"No target, no identified project"
The French Interior Minister Manuel Valls admitted that there was for now "no target, no identified project" in the Vikernes affair, but he justified the arrests by the necessity, in a terrorism investigation, "to act before and not after".
Vikernes has been under police surveillance for some time now, AFP reported. A preliminary investigation was launched by the anti-terrorism section of the Paris public prosecution office at the beginning of July after Cachet legally purchased firearms. Cachet has a gun permit.
Five rifles, including four .22 LR rifles, have been found at Vikernes and Cachet's home during the course of the police search.
Vikernes, the man behind black metal project Burzum, had served 16 years of a 21-year prison term – the maximum sentence in Norway – for the murder of Øystein Aarseth, known as Euronymous, the guitar player of black metal band Mayhem.
Vikernes had also been convicted of arson attacks on four churches. He was freed earlier than expected, in May 2009, then moved to France in 2010 with his wife and three children.
Vikernes, a Pagan and far-right sympathiser, had reportedly received a copy of the manifesto of Anders Behring Breivik, the far-right terrorist responsible for the July 2011 Oslo bombing and Utoeya Massacre which left 77 dead. Breivik was sentenced to 21 years in jail for terrorism on August 2012.
Discussing the contact between Breivik and Vikernes and the manifesto that was sent, an official at the prosecutor's office said. "That was the origin of the investigation… There were several suspicions that made the services fear he could possibly carry out a violent act."
On his website, Vikernes discusses Breivik's manifesto, but in a post called "War in Europe: Part V – Breivik Unveiled" he also criticises the murderer for killing more innocent Norwegians than Muslims. Vikernes, who describes himself as a "pagan," accuses Breivik of being a Zionist agent and "Christian loser".
"If you, dear European nationalists, really want to save Europe (as a biological term) you have to realise that the only thing to do is to cast aside all Christian other international nonsense and embrace only the European (i.e. Pagan) values and ideals and if you like the European deities as well," said the post, dated December 13. "If you work for Christianity in any way you work for the Jews. Plain and simple."
The mayor of Salon La Tour, where Vikernes and his wife live, said he had been surprised by the arrest. "I didn't notice anything strange (about Vikernes) other than that he liked to wear military costumes and liked Gothic music," Jean-Claude Chauffour told French media BFM TV.
(with wires)
CC BY SA Wikimedia Commons http://eurone.ws/12JF0vo