Royal baby to boost UK pram sales
Comments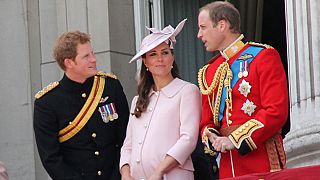 The birth of the royal baby is estimated to create a 13 percent upsurge in sales of prams and pushchairs in the coming year, equating to a rise of £33 million (38 million euros).
At present UK consumers spend a total of £753 million on baby and nursery equipment every year. However, figures from the Centre for Retail Research (CRR) reveal that with parents striving to keep up with the royal couple the annual spend on prams and pushchairs is estimated to increase from £255 million to £288 million from the 12 month period following the royal birth (July 2013- July 2014).
The Royal's carriage of choice for their baby is rumoured to be a light blue Bugaboo. If this is the case, the company could see its sales soar after what could be considered the most lucrative product endorsement of the year.
Pram manufacturer iCandy saw a boost in sales after the Beckham's purchased an iCandy peach model for their daughter Harper Seven after her birth in 2011. iCandy grew from £3.6 million sales in 2009 to £9.6million in 2011. It's thought the royals' unintentional endorsement of whatever brand they choose will have the same, if not an even greater, effect on the sales of the particular company chosen.
Euronews contacted a spokesperson for Bugaboo, who said: "We have no indication either way that the Duchess of Cambridge has in fact purchased a Bugaboo, but if she has we would be delighted that a style icon such as Her Royal Highness has chosen Bugaboo for her first child."
Professor Joshua Bamfield, Director of the CRR who conducted the research told euronews: "From the marketing point of view the royal baby will combine the 'Kate effect' we've seen in other areas already, such as in the fashion world, with the excitement everybody feels about a new baby; particularly when the new baby will become our future King or Queen.
"As a result we expect everything that the baby uses or wears, from the bib to the pushchair, will become this year's must-have products for proud parents. It's a culture of keeping up with the Cambridges that isn't going away, albeit a very profitable culture for the retail sector."
The British economy is already starting to improve and the royal baby will simply provide some more "rocket fuel" to make things move forwards faster, said Professor Bamfield.
"With economic improvements fuelled by recent annual popular royal successes; the Royal Wedding in 2011, the Diamond Jubilee in 2012 and now the imminent birth of a future monarch in 2013, we wonder what the royal family will do for 2014."