Egypt: interim head of state dissolves parliament
Comments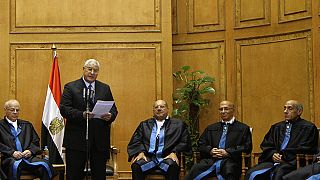 The newly-appointed interim head of state in Egypt, Adli Mansour, has dissolved the country's parliament by decree on Friday, according to state television.
Mansour was appointed after the army ousted democratically elected Islamist President Mohamed Mursi.
Egypt's lower house was dissolved by military-led authorities shortly before Mursi was elected a year ago leaving only the upper house, called the Shura Council, active.
State TV also said that Adli Mansour appointed Mohamed Ahmed Farid as head of intelligence.
Farid replaces Mohamed Raafat Shehata, a Mursi appointee, who becomes national security adviser to Mansour.
With Reuters