Back in the Day: the beginnings of the Tour de France
Comments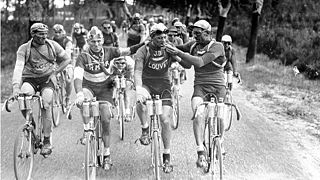 July 1, 1903: the first Tour de France bicycle race began. It ran until July 19, consisted of six stages totalling over 2,428km and was won by Frenchman Maurice Garin. The race was invented to boost the circulation of the newspaper L'Auto and to attract cycling fans away from its competitor, Le Vélo. Compared to today, the stages were extraordinarily long, with an average distance of over 400km, but the route was largely flat, with only one significant mountain. The famous yellow jersey which marks out the leader in the general classification had not been introduced, but the leader did wear a green armband. Cyclists also did not have to compete in all six stages, but could pick and choose as they pleased. 60 cyclists entered the first race, of whom an impressive 39 had no commercial support. However, it seems some things never change – Garin won the 1904 Tour de France, but was stripped of his title for cheating; Lance Armstrong, who won the Tour seven consecutive times between 1999 and 2005, was stripped of his titles last year after admitting to doping.
Also on July 1:
*1908 – SOS is adopted as the international distress signal. *1916 – the first day of the Battle of the Somme; the French and British armies mount a joint offensive against German troops. A staggering 19,000 soldiers from the British Army were killed and 40,000 wounded on the first day of the battle alone. *1979 – Sony introduces the Walkman, kickstarting a change in music listening habits by allowing people to carry music with them and listen to music through lightweight headphones.
Born on July 1:
1906 – Estée Lauder, American businesswoman, co-founder of the Estée Lauder Companies.
1945 – Debbie Harry, American singer-songwriter and actress, best known for fronting the band Blondie.
1961 – Diana, Princess of Wales.