Facebook fires Femen for 'promoting prostitution'
Comments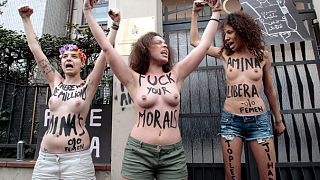 Ukrainian women's rights movement Femen claims to have had its major accounts on Facebook suspended, reports the Huffington Post.
On Monday, Facebook terminated the account for French Femen, while on Tuesday it went on to block Femen's main page. In total, these pages were 'liked' by around 170,000 people, making the network of Femen's pages one of the biggest women's communities on Facebook.
The formal reason for the closure of the platforms, according to Femen, is "they are accusing us of spreading pornography and promoting prostitution".
A spokesperson for the group added that the pages' closure was a "logical continuation of the internet war waged against Femen from a host of different reactive groups: the Nazis from European and post-Soviet dictatorships to Islamic fundamentalists." The Femen pages on Facebook were one of the main information platforms for the campaign for the release of political prisoners, in particular activists from Tunisian prisons.
Activists have appealed the closing of the pages of Facebook and asked the social network to reverse its decision.