US Senators urge Obama to suspend Bangladesh trade benefits
Comments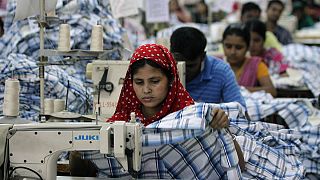 US senators have pressed President Barack Obama to suspend trade benefits with Bangladesh until it can improve its working conditions.
"We urge that the administration suspend Bangladesh's eligibility for GSP (Generalized System of Preferences), and establish a roadmap and timeline for reinstatement based upon tangible improvements in worker safety and related labour law reforms," the Democratic senators said.
There has been a lot of pressure on Bangladesh to clean up its textile industry following the Rana Plaza disaster in April, when 1,129 people died after a building that housed a number of garment factories collapsed. Some months earlier in November 2012 a factory fire in Tazreen also killed 112 people.
Obama will probably make a decision by the end of the month whether to go ahead with suspending Bangladesh from the GSP programme, which waives import duties on thousands of goods for poorer nations to help stimulate growth. Last year the GSP programme saved Bangladesh $2 million on duties for items such as tents and golf equipment.
The proposal to suspend Bangladesh from the group was first suggested 6 years ago, when it was hoped that the threat would be enough to encourage labour reforms.