Claudio Rocco on euronews: "I learn and grow each day"
Comments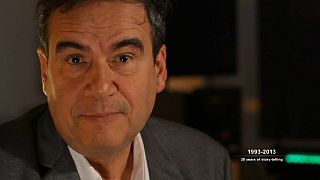 When I came to Lyon twenty years ago, right at the start of euronews, there was a bunch of us, newly-arrived colleagues, and the whole thing felt like a high school trip.
We would go out together in the evenings and it was all very friendly. Over time, we've all built our own lives here in Lyon. But something important has lived on: the will to exchange ideas and experiences between journalists from different cultures, countries and languages. Back then, euronews only spoke five languages, now we speak 12!
To give you an idea of what it means to live and work in a multilingual and multicultural atmosphere, just imagine the canteen, which echoes every day not only to the sound of EU languages but also Farsi, Arabic, Ukrainian… and I always try and sit next to a colleague who will tell me a story different to my own. Some of them, for example, have been through war and other very difficult life experiences. At euronews, I learn and grow each day.