Benedict leaves a church primed for change
Comments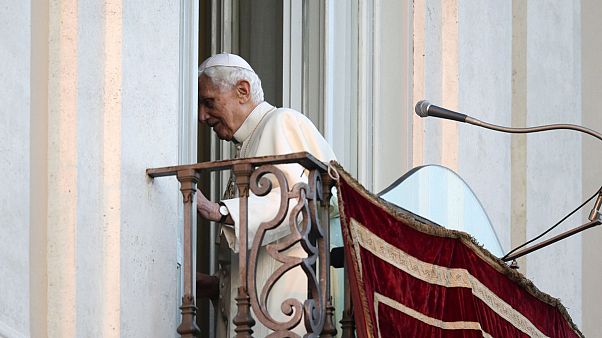 These are momentous days for the Vatican as the Catholic community rallies round the pope. The church is now leaderless, but primed for renewal. Benedict XVI was a reflective pope, but now the church needs energy to face up to the difficulties posed by the modern world.
"I have never felt alone" the words of Benedict XVI as he greeted the 150,000 pilgrims who thronged St Peter's Square to witness his final General Audience. The pope delivered his words with sincerity and humility.
"In these past months I have felt that my strength has decreased and I have asked God, earnestly in prayer, to enlighten me and with his light make me take the right decision, not for my good but for the good of the Church."
After his shock resignation the Catholic faithful appeared confused, rudderless, but then the reasons behind his decision became clear:
Italian pilgrim Roberta Tassi summed up the feeling: "He made the decision to retire because he wanted to leave the seat empty. It had become too heavy for him. In reality, I think that the pope wanted to give a signal that it was really time for a change."
The pope also made it clear that his papacy was no bed of roses.
He said: "I have followed the path of the church. There were moments of joy and light, but also difficult times. I felt like St Peter with the apostles on board a boat on the Sea of Galilee. The Lord has given us many days of sunshine and breeze, when our fishing nets swelled. There were times when the sea was choppy and we faced strong headwinds, like the history of the church. There were times when I thought the Lord was sleeping, but I always knew the Lord was with us, the vessel of the church, it is not me or the church, but the Lord:"
Bettina Gotte, a pilgrim from his native Germany, was happy with the pope's comments: "It was an amazing experience, the Holy Father spoke with such an open heart and so much kindness, that it really meant a lot for believers."
Throughout his papacy the church has been dogged by scandals.
Gianluigi Nuzzi is the man who sparked the Vatileaks controversy with the publication of his book 'The Secret Documents of Benedict XVI'.
Prior to that, in his book 'Vatican LTD' exposed the mysteries of the Holy See's finances.
Euronews' Manuela Scarpellini spoke to the author and journalist about the resignation of Pope Benedict and first asked: "Do you feel partly responsible for what has happened?"
Gianluigi Nuzzi: "No, I am not responsible, I did my job which is to inform and only now after the sensational decision of the pope to resign can you read the documents published in my book."
euronews: "There are very different characters in the books – the pope's butler Paolo Gabriele, who leaked the pope's private papers, and the ex-president of the Vatican Bank Ettore Gotti Tedeschi. What motivated these different personalities?"
Gianluigi Nuzzi: "Paolo Gabriele is a Catholic and a Christian, who over the last 10 years became aware of events detrimental to the Curia – heavy stuff. We are talking about cars sprayed with bullets, strange suicides. Paolo Gabriele wanted to help the pope, whom he loves, and wanted to make public the challenges facing the Curia. Then we have Ettore Gotti Tedeschi, president of the Vatican Bank. One day he hands his secretary three envelopes containing three folders and says, "If they kill me give these envelopes to the above people."
euronews: "The shock of the resignation and the accusations against a senior cardinal just before the conclave. That is how it ended for Pope Benedict:"
Gianluigi Nuzzi: "Benedict is a conservative, not in terms of western politics, but from a theological perspective. The pope, within the contemporary world, preserves dogma, the word of the gospel and reference to what it is. Then a cardinal is accused of inappropriate acts and the pope says, 'not only must pedophiles face divine justice, which acted as a fig leaf for pedophilia, they must face the courts and we must compensate the victims'. This pope is a revolutionary father. It leaves an important message to the conclave and the hope is, not for me, that they choose a black pope, a Brazilian pope, a Filipino pope, not just a media pope. Then right thinking people will say 'finally the first black pope in history'."