Doha's WISE awards recognise top educational projects
Comments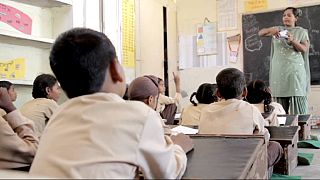 India's special school programme aims to bridge education divide
The Satya Bharti School Programme offers a lifeline for hundreds of boys and girls in villages dotted around the the north Indian state of Punjab.
By constructing equipped school buildings with up to date, separate toilet facilities for boys and girls and even clean water and electricity, the programme aims to facilitate access to education for many children from underprivileged backgrounds.
Girls are particularly vulnerable since they are often married off in early adolescence. The project hopes to stop the illegal practice by turning around cultural attitudes and keeping girls in education.
"EducarChile" website enables greater educational access across Chile
The "EducarChile" programme was set up as a public education project. It aims to ensure children and young adults across the country receive a quality education regardless of the school or geographic location.
By logging on to the website – which now receives around 1.8 million hits per day – any student from anywhere can access the online tools they need to continue their education, even if their school has been torn down by an earthquake.