Building bridges between school and work
Comments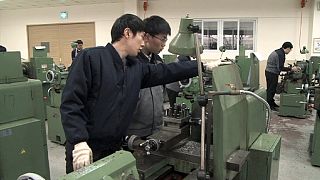 Recent research by a global management consultant found that only 42 per cent of employers worldwide believe new graduates are properly prepared for work.
Many people believe that schools and universities are failing to satisfy the needs of a rapidly-changing work environment.
Jordan
Seventy per cent of the population in Jordan are young people. Recently, many took to the streets to protest against high unemployment rates.
It's a challenge for the government but a number of initiatives are turning to the private sector for a solution.
We visited the Jordan Career Education Foundation to find out what they are doing to help.
Mexico
In Mexico, we find out more about Impulsa, an organisation that is persuading big business to provide a taste of the working world to provide young people with the knowledge and skills needed to get a headstart in their chosen career.
South Korea
In Seoul, we take a look at a form of vocational school that's based on a German blueprint. Meister schools are aimed at filling a chronic shortage of technical staff in the country's industry. And they claim to have an impressive record of finding work for their graduates.