'Film and cameras are weapons' - Iranian director Bahman Ghobadi
Comments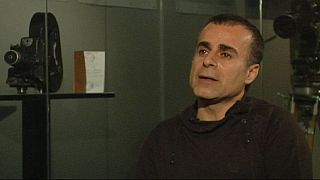 Euronews reporter Wolfgang Spindler spoke to the exiled Iranian filmmaker of Kurdish ethnicity Bahman Ghobadi. The director speaks about making movies in Iran, his latest offering "Rhino Season" and his hopes for the future of his country.
Wolfgang Spindler, euronews.
"Your last movie is the first you have made since leaving Iran. What was it like working outside your homeland?"
Bahman Ghobadi:
" Firstly, I didn't leave Iran they forced me out of my country. It is very difficult to make a film in a country without knowing the language or culture. So this film reflects my feeling since I left Iran, in other words it is a very personal piece of art."
euronews:
During the Cannes Film Festival I interviewed your colleague Asghar Farhadi, he said there is a problem of censorship, not censorship from the authorities, but a self censorship, within the film community.
Bahman Ghobadi:
"What I always say about censorship is that we have become worse than the state, it is automatic, yet we don't want censorship, but the constant pressure on us by the regime forces you into it. One becomes like a convict on death row. They treat you so badly that you decide to kill yourself. Iran is like a condemned man who has been shot but the bullet missed the heart, Iran is seriously injured, we must help this country rise again."
euronews:
"Did you leave Iran with a heavy heart?"
Bahman Ghobadi:
"It has been that way for three or four years I feel their is a hand smothering me, trying to strangle me. The film has helped me get over it. Now I breath a little better.
euronews:
"You once said you hated cinema, then you became a filmmaker. What does it mean to you to be a director? What is your mission? What keeps you going?"
Bahman Ghobadi:
"I am not sure exactly, but there is an energy that comes from my childhood, more specifically childhood memories. This blows me away and helps me make films. This energy comes from my country, my culture, the people and the Kurdish misfortune throughout the ages and the insecurity which weighs heavy in that part of the world. All this led me to make movies. It is true I have never really loved film or theatre, because the situation is difficult, conditions are not ideal for a filmmaker I could never film in peace in Iran, I have never just sat in a chair and said, "camera, action." I have never had such a chair.
euronews:
Yes, but cinema is important, it is story telling, it presents a picture of your country, it offers the world a window on Iran and raises Iranian issues. It is important to produce, make and see Iranian films."
Bahman Ghobadi:
"I know and this is why I continue on my way, film and cameras are effective weapons, most of the time I don't carry firearms, but now I am armed and use this to defend my homeland. I also try to reflect my country's history and its people to the wider world. I live in a country where you need permission to even think the authorities want to know what you are thinking and what are your plans for the future as a filmmaker. They even want to know what subject you are writing about. Once the script is ready the government makes you wait for months, years for permission to film and then they finally allow you to film. Then you have to put up with state security agents while you are filming your sequences. Then when you have made the film you need a permit to distribute it, to put it on screen. Then you need permission to send the film to festivals there is a lot of fear and panic you feel strangled. All this is great fun for a filmmaker.
euronews:
"We have seen the Arab Spring turn some states upside down. So far there has been no Persian spring. Is there any hope for change in Iran?"
Bahman Ghobadi:
"Not a Persian spring, an Iranian spring because Iran is not Persian. Persians are a small part, Iran means the Kurds the Baluchis, Arabs, Azeris. When the different ethnic groups rise, the Iranian spring will be stronger than in 2009, but I have the impression that there was a resolve to suppress this popular movement both domestically and in the wider world. I believe in the Iranian spring and the Kurds, Azeris, Baluchis will rise soon. I hope that the regime itself decides to concede and hand back human rights to all our citizens and all ethnic groups in my country."