In Somalia, one woman's struggle for her sisters
Comments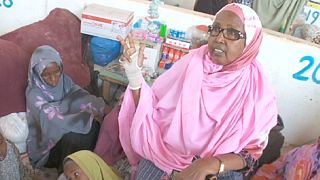 "I came from the Ethiopian border, we used to raise animals, mainly goats. Because of the drought, I lost all my animals. And there was also fighting between clans. So we decided to leave that region, and find some security. So we came here."
So says Sahra who three months ago arrived at Halabokhad camp near the town of Galkayo,in Puntland, north-east Somalia.
Many displaced persons have found shelter here from violence elsewhere in the country, and the creeping drought that has pushed rural communities towards starvation.
To feed her family Sahra can only count on the kindness of others like her.. She, like everyone else here, turns to a woman everyone knows, a woman who can change their destinies.
The remarkable Hawa Aden Mohamed has restored hope for thousands of people.
People like Asha Ali Samantar, who is bringing up her nine children alone, along with five nephews and nieces. A $300 (234 euros) loan has enabled her to open a small store in the camp, supported by Hawa Aden Mohamed's NGO, the GECPD, or Galkayo Education Centre for Peace and Development.
"My business is doing well compared to previous times when I had no one to help me. Before I used to beg people to help me with 2,000 shillings to buy a glass of water. Now thank God I can buy my vegetables and food and everything I need," Asha told euronews.
The organisation, supported by the UN's refugee agency, has also taught her to read and write, and enabled her to send several of her children to school.
Providing women with access to education and development has always been what everyone here calls 'Mama' Hawa's daily combat. It has won her the UN's Nansen Refugee Award.
"The whole market is free for them. And in the afternoon, it is a must, it is a must, they have to go to the school, for the literacy classes. That was a condition we made. How can you be empowered if you're not educated? If you cannot really understand what the issue is. If you are illiterate, you have a mind, you can talk, you can see what is wrong, you can see what is right, and all that. But not really at the level of where you can argue as an equal. Where you can demand your rights," insists Hawa.
Her organisation works in the 20 refugee camps in the region. Euronews could only visit Halabokhad, the safest, and most developed.
Puntland is a normally calm, semi-autonomous region despite being home to several armed militias, and pirate bases. The week we visited it was on high alert.
Clashes between pirates and the army left several dead during our stay. A rash of kidnappings meant we could not venture far afield, and we were always escorted.
We were only authorised to spend a short time at
the organisation's headquarters, the education hub in Galkayo town centre.
The GECPD was founded in 1999, when Hawa Aden Mohamed, who had fled to Kenya, decided to return home to help Somalia's women.
It was a longstanding commitment. Responsible for the women's portfolio at the Education Ministry in the 1980s, Hawa set up several NGOs over the next few years to promote women's economic development and education. The civil war led to her exile in Canada.
She returned to southern Somalia in 1995, only to again be forced to flee from the savage clan wars.
When Hawa arrived in Galkayo, her stand on female emancipation clashed with traditions.
"I was the witch. I brought bad omens to start a school. I had something different, ideas which were considered not good for our religion, not good for our culture. So you know it was very difficult. The girls also when they leave the school, outside they were insulted," she remembers.
Determination kept her going. In 10 years Hawa and her team managed to open 12 primary and secondary schools for girls, a boy's school, a leisure centre, hostels, and the town's only library.
As a result 40 percent of the girls in the region go to school, a national record in a country where less than a quarter of women have access to education.
The centre also offers vocational education to women and girls in the IDP camps.
One workshop has changed the lives of hundreds of them. The women make reusable sanitary towels and other female hygiene products.
"It is really a dignity kit. Because when you see the women dripping blood! Before we started the production, girls dropped out of school. Girls don't want to come to school when they are bleeding. They were using plants, and tree leaves; they were using newspaper. And now they are using their piece of material in a proper manner, nothing drips, they wash it. So it really changed their life," explained Hawa.
The UNHCR buys the sanitary kits and distributes them in the camps. The enterprise helps entire families survive.
"With the amount of money I get here, I pay electricity bills. I can also pay for the education of my brothers and sisters' children. And I have enough to cover my own needs," said tailor Muna Hassan Mohamed.
Outside the town and the camps, the workshop also offers some safety to young girls who face the threat of violence every day.
"Before I started this job, I used to collect leftover bits of khat from the ground, to resell, and I used to sell rain water. The little money I got from selling that, men came and stole it, they grabbed it by force. It was risky. And after they took my money they followed me when I walked back home, they abused me and wanted to rape me," said Muna.
There are three or four rapes every week in
Galkayo. Violence against women in a lawless state where the strong can literally get away with murder is a major challenge for Hawa Aden Mohamed.
She is also crusading against another form of violence inflicted in the name of tradition – female genital mutilation (FGM). Hawa has suffered it herself, and in the most brutal way.
"I was six or seven years old. And you remember. I remember, vividly, what happened. No anaesthesia at that time. My sister died because of FGM! Even today, girls, they die! Nowhere is it written anything that says that yes, Alhamdulillah (Praise to God), God created you and you have a bad part to be cut out! We don't have anything like that. It is to oppress women's sexuality. There is nothing else!"
Hawa has never been able to have children. 98 percent of Somali women suffer circumcision.
"You see all these children now, they are all over. They have undergone FGM. Which is really very sad.
And why is it continuing for ages and ages ? It is because of the men! Because if fathers said no to one, if the brother says no to one; if young men say, no, not for my future wife, then FGM would have been stopped."
Changing attitudes is the sort of work that will not succeed unless men get involved. Hawa has won the respect of all, but she still has to hammer home her message at every opportunity.
The message will be carried forward by the younger generation, a generation Hawa is trying to fill with hope. In her training workshops several young men admit they have been tempted to try piracy, or petty crime, or one of the militias, or even illegal emigration.
"The majority of Somali youths don't have a future, and they join the pirates. The only thing that can change their lives is training and skills," said welder Faysal Abdi Dubhour.
"They are the ones – the boys, the youths – who should create peace, who should come together, who should work together, who could move forward hand-in-hand. So if we don't get the generation of youth, then we have again another lost generation," said Hawa.
But the woman many call the Queen of Galkayo has to ensure there will be a smooth succession to ensure the future. It is a critical challenge.
During our visit we watched a football and basketball tournament organised by Hawa for teams from the camps, competing against each other. It takes place in the GECPD's own stadium, a rare haven where men and women can mix freely.
Everyone agrees sports are a way of bringing former warring clans and communities together in peace, and are a way of integrating displaced people with their host communities.
"Before they were the ones who were robbing, raping, preying on the community, you see. But now, when we ask 'OK, now what will you do?' They say 'We will defend our sisters, our neighbours, our mothers'. So you see the community coming together. At the end of the tunnel, there is hope," concludes Hawa.