News+: Dutch pro-Europe parties claim victory
Comments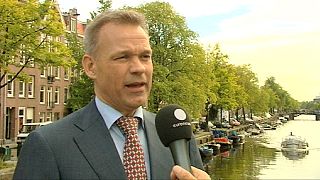 In the Netherlands any fears that the Dutch people would punish the country's pro-European parties for the euro crisis were quickly dispelled on Wednesday after an unexpected election result.
Prime Minister Mark Rutte's Liberals and the rival Labour party both enjoyed a strong showing, with 41 and 39 seats respectively. It means the Netherland's two centrist parties can now attempt to form a new left-right coalition. Lengthy talks are likely, but if the two can overcome their differences, especially over austerity, the prize will be an absolute majority in parliament.
For the country's other parties, particularly Geert Wilders Freedom party, it was a bad night. Wilders, who had campaigned on an anti-Europe platform saw his parliamentary representation almost slashed in half, from 24 seats to 15.
For Rutte though the result was a major turnaround in political fortunes. Many analysts also hailed the outcome as a sign that one of the EU's richest countries remains at the heart of Europe and a close ally of Berlin.
To get more on the Dutch election result euronews spoke to political expert Andre Krouwel from Amsterdam University. To see the full interview please click on the video link above.