Rediscovering a love of reading
Comments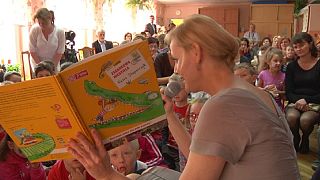 The Arab Thought Foundation estimates that most people in the Arab world spend less than six minutes a year reading a book. Some projects are fighting back. We look at two initiatives in Poland and Jordan, which are promoting reading amongst young people, and we talk to an expert.
A Polish project believes it is never too soon to start children with books. Even parents in post-natal wards are being encouraged to read to their new-born babies.
http://allofpolandreadstokids.org/history-in-brief
On the nuts-and-bolts of learning to read, we spoke to Alain Bentolila, a linguistics professor at Paris Descartes University.
We also travelled to Jordan, where one woman has been leading a campaign to re-instil young people with a love of reading.
And she is doing so with the help of an army of reading ambassadors.