Problems at home and abroad for US policy in Afghanistan
Comments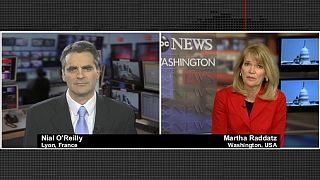 Nial O'Reilly, euronews:
As we've seen the killings in Afghanistan have unleashed a wave of anger against foreign troops in the country. Well, for more on the response in Washington we're joined now by Martha Raddatz, ABC's senior national security correspondent.
Martha, thanks for joining us.
This is of course, first and foremost, a human tragedy in Afghanistan, but it's sent shockwaves through the Pentagon and the White House. How will US policymakers and military commanders begin to address the damage done to the mission in Afghanistan?
Martha Raddatz,
ABC
news:
"You saw that President Obama aplogised in a statement, saying this is not an indication of a widespread problem and praising the excellent military members who are serving the United States. They also went into the village, they did that almost immediately… I think that's where rumours began that there was more than one shooter, because the soldiers went in to help the villagers, to take the wounded to the hospital in Kandahar. This is of course unprecedented. In 10 years of covering the war, I have never seen anything so cold-blooded. Officials say that a US soldier wearing night-vision goggles went door-to- door, shooting women and children."
Nial O'Reilly, euronews:
"We know the battle for hearts and minds has been particurlarly difficult in Afghanistan. Is there a feeling in the Pentagon that it's a battle that can't now be won?"
Martha Raddatz, ABC news:
"Well I think they know that this is a battle that is much more difficult. That Afghan society is rampant with rumours. Not only is this an horrific event, but you are probably going to have exaggeration, you are probably going to have the Taliban taking advantage of this and telling other villagers that this is what Americans are doing and that they might do it again. They are going to put the fear in as many villagers as they possibly can."
Nial O'Reilly, euronews:
"You mention the strength of the response of the Taliban. Are we likely to see any preparedness by the military in Afghanistan for an upsurge in attacks by the Taliban?"
Martha Raddatz, ABC news:
"I think not just the Taliban, I think you could see regular Afghans trying to take some sort of revenge.
Remember less than a month ago when the United States, inadvertently, burned those Korans. Six members of the US military were killed shortly after at different bases, and at the Ministry of the Interior in downtown Kabul, as revenge for the burning of the Koran and I think the US is bracing itself and coalition forces, NATO forces, for some sort of revenge for this really horrific incident."
Nial O'Reilly, euronews:
"Will this shooting and the earlier Koran-burning incident affect attitudes in the US generally to the mission in Afghanistan?"
Martha Raddatz, ABC news:
"Well what is extraordinary is how bad attitudes are already. ABC news and the Washington Post posted a poll over the weekend, and this is before the shooting, that showed 60 per cent of Americans don't think the war has been worth fighting in Afghanistan… and a majority of people, 54 per cent, say they think Americans should get out of the country even before the Afghan security forces are fully trained, which is supposed to happen by the end of 2014. So I think you will see a lot more pressure. I think certainly that the Pentagon is worried about this pressure from the American public. It is American public opinion that they count on as well, so not only in Afghanistan will the people be affected I think you will see the American people looking even more negatively at this war."
Martha Raddatz at the Pentagon thank you very much for you insights.