Brazil's Women and War - Antonia's tale
Comments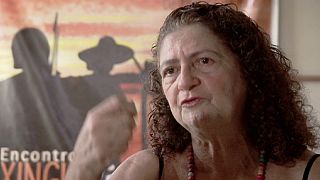 Antonia Melo de Silva is leading a battle against plans to build the world's third biggest dam in the Amazonian rainforest.
She told euronews: "They try to intimidate me with messages, like: 'You are going to die', 'Antonia Melo will die'. Well of course, I will die one day, eventually! They say 'You will die if you meddle with our business, if you interfere with us'. These messages are delivered by their henchmen."
Antonia Melo has been at the forefront in the fight for women's rights in the Brazilian state of Para for the last 25 years.
The death threats are the result of the fight she is leading at the head of the Xingu Vivo Para Sempre movement.
It is a war against the Belo Monte Dam, which the state wants to build across the Rio Xingu, one of the Amazon's tributaries in the state of Para.
The project threatens the area's indigenous population and communities of small-scale migrant farmers.
Around 20,000 families would have to make way for an access canal to the barrage.
In the village of Sao Francisco das Chagas, a few dozen small farmers live in isolation and fear.
Antonia told a meeting: "The government says it will build you schools, hospitals, and other infrastructure. They think we will swap our land for a school they'll build nobody knows where. We must be very clear in our minds. We must be aware that health, education, housing, roads, are our rights. And there's no way we need a dam to get them."
In a region where a family earns on average 150 euros a month, these small farmers are susceptible to the developers' promises.
One of them, Ana told the meeting: "Now, they already bought some land, for 600,000. This is their trick: they pay me well, but it doesn't mean my neighbour will be paid. In practice, they pay for a few slots of land, and for the rest, nothing at all."
And a farming colleague added: "That's what they did here! I know that for the first families, they'll pay the amount you mentioned, to attract the others. But they are cheating the farmers. They pay a few, and the others can just go to hell!"
Antonia Melo showed euronews the Transamazonian road, built 40 years ago, during the military dictatorship.
"When the government built it, they brought thousands of families here from all over Brazil, telling them this was a land without men, for men without land," she explained.
"The government brought thousands of families, and then abandoned them. Some went back to where they came from. Many of those who stayed were ravaged by diseases and accidents. I was living here at the time, and I shared all that suffering. Since the 1970s, the families who decided to stay under such conditions, without any food, or any other road, started to cultivate the land to survive."
Raimundo and Fernandina da Silva bought their land 20 years ago. They cleared trees from 20 percent of it to plant crops to feed their 10 children.
Now the State wants them to get out. If the dam is built, this area will be underwater.
Raimundo told us: "When we came here, there was nothing, just forest. When we bought the land, there was only wood, no house, not even a shed for shelter."
His wife Fernandina said: "We are devastated about this dam. It will force us to leave, and will destroy everything we have. Life is tough here, we worked very hard to get what we have, even if it's not much. And all of a sudden, we're going to lose everything. It's hard for us, really hard."
Given the enormous riches that remain untapped in the Amazonian forest, activists like Antonia have little means to resist.
But she says she will never give up, whatever the risks.
"These are big challenges, which have serious consequences for my own family. It brings me a whole load of problems. But above all, these challenges bring me great joy. Because I'm absolutely sure that my work, above all, contributes to the well-being of future generations — they're the ones we're fighting for."