Ashoka's Bill Drayton believes you can make a difference
Comments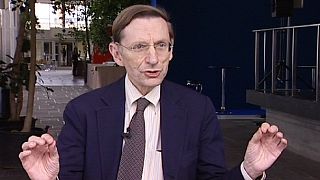 Aurora Velez, Euronews: You've studied at Harvard, Oxford and Yale, how did you come up with the idea of creating this huge web of social entrepreneurs?
Bill Drayton: "When I was 19, I was in India and I saw the huge difference in per capita income between the west and India. So what can we do? So what is the most powerful force in the world? It's a big idea but only if it's in the hands of an entrepreneur. So the idea was very simple – if we can have more social entrepreneurs and their ideas get started and succeed, you can speed up the change process. And that's very high leverage, very small class, huge impact and when you're sophomore at 19, you don't contol much, so that's a very key criteria so that's really where the idea was launched.
EN: What are the primary traits of changemakers?
BD: "If you look at the Ashoka entrepreneurs, over half of them have changed national policy in five years, they're very powerful; but you look at their ideas, anyone in your audience could've come up with those ideas and if they were just persistent enough, they could have made that change happen. So the big diference is these people gave themselves permission. The world we're going into – and this is fundamental for education and parenting – is a world where we want to make sure that every young person has the skills, knows they have the skills so that they can change the world".
EN: How does Ashoka measure the potential of changemakers?
BD: "We look for a couple of things; one, there has to be an idea that will change the pattern in the field of environment or health on a continental scale. Then, there are four criteria; they are creativity, entreprenurial quality, ethical fibre – which is very important – and then not about the person but the idea, will this idea once it's demonstrated have legs? Will people say: 'Oh that's a really good idea I hadn't thought about that, that'll solve a big problem I have'. So those criteria… and then we have a five step selection process with different people in each step, with the result that we have uniform results across the world from year to year, over half have changed national policy in five years. Three quarters have changed the pattern in their field at the national level within five years so these people are there you just have to know what you're looking for".
EN: Changing the system is what the Spaniards are trying to do with their Spanish revolution. They call themselves the "Indignados" "the indignant ones", do you identify with them?
BD: "The systems of the world are very seriously stuck so there is a lot of frustration with them all over the world; it's not limited to Spain. This is because we're in a transition phase. Of course people are indignant. No one likes to be treated like a cog, as versus a change-maker, it's very different. A very high proportion of the workforce is not emotionally engaged in their work, maybe 15 percent are actually harmful to their employer because they don't like being treated this way. This is the last stages of an old system where few people controlled everything and everyone else was supposed to do a repetitive function. That's ok for a static world but we don't live in a static world, everyone wants to be a change-maker. It's scary not to be a change-maker, not to know how to cause change in a world that's defined by change. It's no longer mastering knowledge and rules, which was fine for a static world. If you don't have empathy, so you understand all the people around you, so you don't hurt you help. Then teamwork, leadership and change-making, how you use those three skills in a very different way, you're not going to be a player – well, that's a different definition of success growing up than mastering knowledge and rules."
"If you don't master being a change-maker, actually having practiced it as a young person, you are not going to be a change-maker in life because you don't have the skills and you don't have that self definition. That's the worst thing you can do to someone and we know how to change that, so the challenge now is for everyone running a school, for every parent: how do we make that transition for the young people we're working with?" In 20-25 hours we can have a child who has never grasped the skill of empathy and they will grasp it. We know how to have them practice it at recess, in the classroom, we know how to work with parents. So when brother hits sister it's not just: you've broken the rules, and I'm now going to enforce them, it's how do you think your sister felt when you did that? Any parent can do that, but they've got to know why and they've got to learn those skills."
EN: Do you feel like a pioneer? Like the
Montessori of the 21st century?
BD: "We are a community of today's Montessoris, but now, instead of one or two we have 700; this is so much powerful. The fact that we work together as a global comunity is very powerful. It's being able to take the best ideas from every country in the world, that we see the patterns and the new paradigm and then working together we can tip the world. This has never been done before. Entrepreneurs have been solo practicioners, now we have hundreds of leading social entrepreneurs working together to make sure that five years from now 80 percent of the elementary school principals know that they're failing if they've got one second grader who has not grasped empathy. Now, we couldn't do that if we weren't a global community."