Who am I? - identity and education
Comments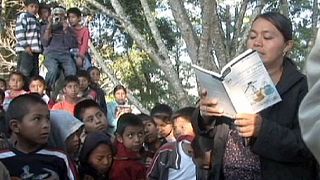 At various times throughout history, entire populations have been denied their identity. Today, efforts are being made to preserve traditional cultures and language. We go to the Caribbean island of Guadalupe. Here, the government has recently incorporated the history of the people's ancestors in its curricula.
In Guadalupe, slavery was abolished in 1848. Since 2000, the subject has been taught in schools. History teacher Christelle Popotte said: "The minister of education introduced changes to the school curriculum in this region. So here we teach some things that aren't necessarily taught all over France – for example the history of slavery and the treaty are taught as well as other subjects. So we are allowed to go further into it, and we have an extra hour a week to teach these subjects in depth."
From the age of six children in Guadalupe study their history. People on the island think school is the best place for this process of collective memory and reconciliation.
In the past, Creole was looked down on as a language because it was mainly spoken by the descendents of slaves. Creole speakers were often excluded from economic and social opportunities, reinforcing low self-esteem among Creole speaking children.
For students in central Mexico, Teatro Campesino or Campesino Theatre is about more than preserving a traditional culture. It is also a way of reviving and teaching one of Mexico's indigenous languages, Zapotec.
Teatro Campesino is specific to this region: the locals are the actors, there is no script, just a canvas – the language is Zapotec and the themes are indigenous community life, the generation gap, ancient myths and traditions.
For more information see www.elteatrocampesino.com
For more than a decade, Australians have held a 'National Sorry Day' to express regret over the historical mistreatment of Aboriginal people. One man has campaigned hard to promote the teaching of Aboriginal values and traditions in schools.
Professor Lester-Irabinna Rigney, is the director of the Yunggorendi First Nations Centre for Higher Education and Research at Flinders University. He is a professor of education and one of the most influential Indigenous educationists in Australia today.
He said: "I think that Aboriginal education has given me my start in life. And without that start I wouldn't be here advocating for Aboriginal education and the education of all children, black and white together – all of us together.
"My mother was the first female Aboriginal principal in Australia. She founded the first Aboriginal school in Australia, the Kaurna Plains School.
"I think one of the keys and successful ingredients to an Aboriginal education is a school that reinforces the identities and cultures inside the school and never asks the children to leave their languages at the school gate.
"We also need teachers, trained Indigenous and non Indigenous teachers to know all the art and science about teaching Aboriginal children, and Aboriginal education and that's what I've been on about in the new national curriculum for Australia. School is the place where we learn to share.
"I think it will also allow Aboriginal and non Aboriginal people in Australia to come together, to share their history, to share their languages, their cultures. After all, Aboriginal languages are Australian languages, are Australian cultures. And Australia really deserves to have these languages live on."
For more information see law.anu.edu.au/ncis/rigney.html
sydney.edu.au/education_social_work/professional_learning/conferences/documents/BridgingTheGap_Symposium_Abstracts.pdf