Are politicians controlled by banks?
Comments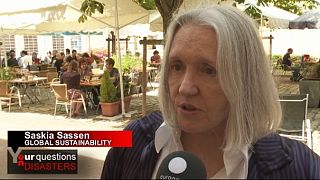 These are some of the questions you asked Saskia Sassen, our expert on global sustainability.
1- Is Europe facing a financial disaster?
2- Should Greece declare bankrupcy?
3- Are politicians controlled by banks or can they make their own decisions on how to tackle the finantial crisis?
Global sustainability
The world economy has become more integrated due to globalisation but it remains to be seen if it is a sustainable model for the future. Saskia Sassen is one of our experts on disasters. Her research focuses on global cities (an expression she helped popularize), global capitalism and environmental sustainability.
Saskia Sassen is a Professor of Sociology at Columbia University where she also co-directs The Committe on Global Tought. She is a visiting professor at London School of Economics as well as the author of 'Global City : New York, London, Tokyo', and 'Globalization and its discontents'.