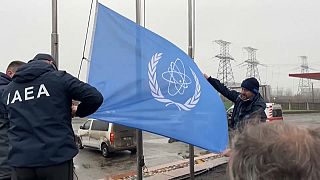 The International Atomic Energy Agency has established a permanent mission at the Chernobyl nuclear site for the first time.
The initiative is part of a new arrangement that will see experts deployed on a continuous basis to all four of Ukraine's power plants, in addition to Zaporizhzhia, where the UN organisation has been present since September. IAEA nuclear watchdog chief Rafael Grossi said it was a special day.
Chernobyl is the site of the world's worst civil nuclear accident in history, which took place in 1986. Due to a flaw in the reactor design, the power plant's reactor 4 was destroyed releasing large amounts of radiation in the air. Safety measures were ignored, the uranium fuel in the reactor overheated and melted through the protective barriers.
The initial explosion resulted in the death of two workers. Twenty-eight of the firemen and emergency clean-up workers died in the first three months after the explosion from acute radiation sickness and one of cardiac arrest.
Only three kilometres from the site was the town of Pripyat, with a population of almost 50.000 people. After the explosion, the entire town was evacuated, with 67.000 more people evacuated from contaminated areas and relocated over the following's weeks and months.
It is estimated that some 200.000 people were moved due to the accident.
Russia briefly occupied the Chernobyl nuclear power plant at the start of the invasion last February.
Consultations are underway on the establishment of a 'protection zone' around the active Zaporizhzhia nuclear power plant, which is Europe's largest, in a move to prevent any possibility of a nuclear accident during the current conflict.
Zaporizhzhia is located on the frontlines of Russia's War in Ukraine and has been host to attacks in the past year since the war began. While all six of the reactors are currently shut down, the plant remains connected to the electricity grid for safety reasons.
Watch the video in the player above.