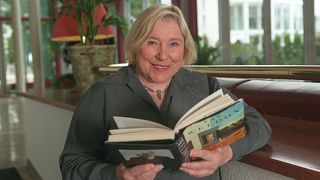 Novelist, essayist and playwright, Fay Weldon has died, aged 91.
The British writer was most famous for her 1983 feminist novel 'The Life and Loves of a She-Devil'. In the story, the abnormally tall and ugly housewife Ruth Patchett seeks revenge on her attractive husband and his new partner after she learns of his affair.
It's one of the many classics she wrote across a long literary career that spanned over 30 novels including a 2017 sequel to 'She-Devil', over 20 plays, and countless essays and non-fiction works.
A truly prolific writer, Weldon's death was announced on Twitter by a family statement via her agent.
"It is with great sadness that we announce the death of Fay Weldon (CBE), author, essayist and playwright. She died peacefully this morning 4th January 2023."
Born in Birmingham in 1931, Weldon spent the majority of her childhood in New Zealand. She returned to England aged 15 and went on to study psychology at the University of St Andrews.
She first worked as a clerk for the Foreign Office before moving into advertising, coining slogans like "Go to work on an egg" and "Vodka gets you drunker quicker" for Ogilvy.
In 1963, she began her literary career writing for television and radio. Her first novel 'The Fat Woman's Joke' was published in 1967.
Across a 60-year-career in writing, Weldon saw great success, receiving a Booker nomination for her 1979 novel 'Praxis' and a Whitebread nomination for 1996's 'Worst Fears'.
A short story collection 'Wicked Women' released the same year earned her the PEN/Macmillan Silver Pen Award.
Alongside her writing career, she was a creative writing professor at Bath Spa University and Brunel University and had four children and three husbands.