Chinese balloon saga: Everything you need to know about the 'spy' crisis
Comments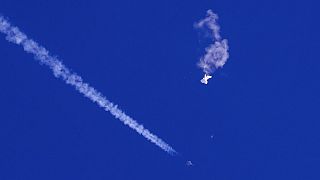 -
Copyright

Chad Fish/Chad Fish
It's a dramatic 'spy saga' that captivated millions of people over the last few days. 
A massive white orb -- the size of three school buses, and suspected of being a Chinese spy balloon -- drifted across US airspace until it was shot down by the Air Force on live television on Saturday.
The whole event blew up on social media and also deepened diplomatic tensions between China and the US. 
Beijing insists the balloon was only used to collect meteorological information and it just happened to accidentally drift into US airspace. China even threatened Washington with further actions.
The Pentagon says the balloon was controllable and could change its course. The government announced the object flew over sensitive areas where nuclear warheads are stored.
Was the US response over exaggerated like China claims it was? According to international law expert Donald Rothwell, the US was absolutely in their right to shoot down the craft.
"The United States has complete and absolute sovereignty over airspace above the continental US and also the surrounding territorial sea," Rothwell told Euronews. 
"And so the presence of the Chinese surveillance balloon violated US sovereignty and is therefore contrary to international law."
How common are spy balloons?
China's surveillance tactics are nothing new. Chinese balloons had already crossed the US at least three times during the Trump administration and once already during the Biden's time in the White House. 
Why the big fuss? "Both governments really see each other just with total suspicion. They are both spying on one another. I think the reason why there's such an uproar about this is because it was so bold and because the public could actually clearly see it," said Natasha Lindstaedt, an expert in US-China relations at the University of Essex.
Lindstaedt thinks the balloon was was most likely used to collect intel on the Pentagon's nuclear capabilities, considering how interested each country is in the other's nuclear weapons programmes. 
While using a balloon to gather intelligence isn't as sophisticated as using satellites to spy on other countries, it does have its benefits.
"What we have seen develop in recent years is the use of high altitude balloons, which can sit at something like 60,000 feet above the ground level, just out of radar range for many defence and military purposes," said Donald Rothwell. 
"This provides an additional level of intelligence and surveillance which is not available to fixed-wing aircraft which operate at lower levels, and also for satellites which operate at much higher levels," the law professor explained.
What now for US-China relations?
For many experts, this incident has significantly worsened relations between Washington and Beijing.
"The relations were already quite tense and both countries were trying to pursue some type of detente. The moment of detente seems to be disappearing. The relationship, some are saying, is worse than before," explained Natasha Lindstaedt.
Analysts believe there could be another series of retaliatory measures between the US and China such as higher tariffs on certain goods.
Now, as the US seeks to retrieve the debris from the shot-down balloon, the big questions remain: was this really a spy balloon and what sort of intelligence was it trying to collect?