Pope begins trip to the Democratic Republic of the Congo
Comments
By Euronews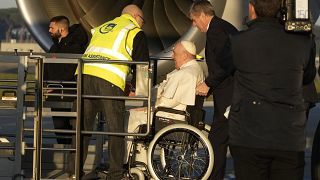 -
Copyright

AP Photo/Alessandra Tarantino
The Pope has begun a six-day trip to the Democratic Republic of Congo (DRC) and South Sudan, where he is expected to deliver a message of peace to the two countries long ravaged by war. 
Africa has become a priority for Pope Francis - it is his fifth trip to the continent as pontiff.
He has previously spoken out about the legacy of colonialism and the harmful impact of the global weapons industry on the region. 
Aid groups say they hope the Pope's visit will refocus world attention on often overlooked conflicts.
Francis's journey is also him face-to-face with the future of the Catholic Church. Africa is one of the only places in the world where Catholic congregations are growing, as well as new vocations to the priesthood and religious life.
For example, half of the DRC's 105 million-person population is Catholic. The country also counts more than 6,000 priests, 10,000 nuns and more than 4,000 seminarians. 
The second leg of Francis' trip will bring him to South Sudan, the world's youngest country, where continued fighting has hampered the implementation of a 2018 peace deal to end a civil war. 
Francis first voiced his hope of visiting the majority Christian country in 2017, but security concerns prevented a visit.
The trip was originally scheduled for July but was postponed because of Francis' knee problems. It was also supposed to have included a stop in Goma, in eastern Congo, but the surrounding North Kivu region has been plagued by intense fighting between government troops and the M23 rebel group, as well as attacks by militants linked to the so-called Islamic State group.
According to the World Food Programme, the fighting has displaced some 5.7 million people, a fifth of them in the last year alone.