Death toll from Pakistan mosque suicide bombing rises to at least 100
Comments
By Euronews with AP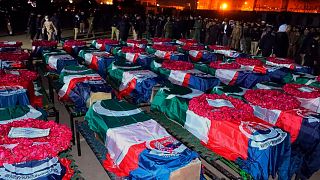 The death toll from the Monday's suicide bombing at a mosque in northwestern Pakistan rose to 100 on Tuesday, officials said. 
The assault on a Sunni mosque inside a major police facility was one of the deadliest attacks on Pakistani security forces in recent years. Current and former officials say the attack reflects reflects "security lapses".
More than 300 worshippers were praying in the mosque in the city of Peshawar, with more approaching, when the bomber set off his explosives vest on Monday morning. 
The blast ripped through the mosque, killing and injuring scores of people, and also blew off part of the roof.
What was left of the roof then caved in, injuring many more, according to Zafar Khan, a police officer. Rescuers had to remove mounds of debris to reach worshippers still trapped under the rubble.
More bodies were retrieved from the rubble of the mosque overnight and throughout the day on Tuesday, according to Mohammad Asim, a government hospital spokesman in Peshawar, and several of those critically injured died in hospital.
"Most of them were policemen," Asim said of the victims.
Bilal Faizi, the chief rescue official, said rescue teams were still working Tuesday at the site of the mosque — located inside a police compound in a high security zone of the city — as more people are believed trapped inside after the roof caved in.
He said the bombing also wounded more than 150 people. 
Counter-terrorism police are investigating how the bomber was able to reach the mosque, which is in a walled compound, inside a high security zone with other government buildings.
"Yes, it was a security lapse," said Ghulam Ali, the provincial governor in the Khyber Pakhtunkhwa province, of which Peshawar is the capital.
Abbasi, the official who gave the latest casualty tolls, concurred. "There was a security lapse and the inspector-general of the police has set up an inquiry committee, which will look into all aspects of the bombing," he said.
"Action will be taken against those whose negligence" enabled the attack.
Authorities have not yet determined exactly who was behind the bombing. Shortly after the explosion on Monday, Sarbakaf Mohmand, a commander for the Pakistani Taliban, also known as Tehreek-e-Taliban Pakistan or TTP, claimed responsibility for the attack in a post on Twitter.
But hours later, TTP spokesperson Mohammad Khurasani distanced the group from the bombing, saying it was not its policy to target mosques, seminaries and religious places, adding that those taking part in such acts could face punitive action under TTP's policy. 
His statement did not address why a TTP commander had claimed responsibility for the bombing.