Huge surge in Italy migrant arrivals despite PM Meloni's 'naval blockade' pledge
Comments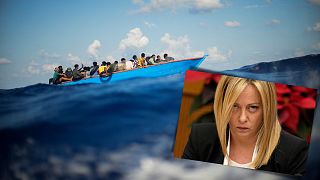 -
Copyright

AP Photo / Euronews
Migrant arrivals in Italy have increased by more than 50% since far-right premier Giorgia Meloni took office at the end last October, official statistics show, contradicting claims made by her government.
On Monday, interior minister Matteo Piatendosi appeared on an Italian TV show and claimed the "growth curve [of boat arrivals] had declined" in the government's first two months in power.
But statistics published by the interior ministry and reviewed by Euronews show that migrant arrivals by boat have been considerably higher since Meloni took office compared to the same period the previous year.
The new PM's first two full months in office -- November and December -- saw almost 20,000 migrants arrive by boat: a sharp rise from the same months the year before when there were 12,600 migrant landings. 
The upsurge in arrivals by boat in the first ten days of 2023 has been even more dramatic: 3,709 so far this year compared to just 378 during the same time period in 2022, marking an 881% increase.
When confronted with the statistics from this month, Piatendosi claimed the fresh wave of boat arrivals was facilitated by milder weather conditions and that the data was only "partial."
Euronews reached out to the interior ministry for further comment, but they did not yet respond. 
Although the Italian right has often pointed the finger to the role of non-governmental organisations (NGOs) in helping migrants land on Italian soil -- with the government recently passing a decree that severely limits their life-saving activities at sea -- official studies would suggest their role has diminished over the past decade.
"From October [2022], NGOs have rescued less than 10% of migrants who've reached Italy," said Matteo Villa, a researcher at the ISPI think tank, who spoke with HuffPost Italia. "In 2016, nearly 45% of migrants who arrived in Italy had been helped by an NGO."
Many in the field have viewed the government's move on NGOs as more than a red herring -- but as counter-productive and potentially harmful.
"This decree is inhuman, uncivilised and not worthy of a modern country," said Roberto Ammatuno, mayor of Pozzallo -- a Sicilian 'hotspot' town for migrant landings. 
"The government's battle against NGOs is incomprehensible, and aggravates the issue," he told Euronews.
"The number of migrants reaching Pozzallo last November and December has been much greater than in 2021," he added. "Migration flows from Africa to Europe are inevitable. The problem is complex and requires us to collaborate with European partners -- all talks of 'naval blockades' and so on are idiotic."
"The government isn't failing to keep its promises because it's incapable - it's failing because the promises can't be kept in the first place," said Mayor Ammatuno.
Meloni and her Brothers of Italy party emerged triumphant in last September's snap general election, leading a campaign which promised to curb boat arrivals and take a hard-line stance on illegal immigration.
In November, the new government triggered a heated feud with France after a charity-run rescue ship with more than 200 passengers was turned away, later docking at the French port of Toulon.
One of Meloni's main -- and most controversial -- pledges was to establish a "naval blockade" in the Mediterranean, to halt migrants from fleeing to Italy.
Critics decried the right-wing leader's proposals as unfeasible and in contravention of international law -- accusations she has dismissed, defending her policy on the grounds of wanting to crack down on migrant smugglers. 
"[We] want to stop illegal departures, finally breaking the chain of human trafficking in the Mediterranean," Meloni stated in her maiden speech to the lower house of parliament last October.