Cuban medical specialists drafted in to bolster Italy's struggling health system
Comments
By Euronews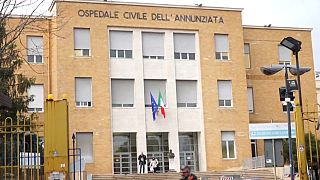 Fifty one Cuban medical specialists have arrived in Italy to compensate for staff shortages in public hospitals.
Over the years, spending cuts in public health have slowed down the recruitment of new doctors in all Italian regions, especially those facing the biggest health system challenges, like Calabria, in the south of the country.
"The employment of Cuban doctors is not a structural solution. Open calls for physicians is the structural solution and we are doing that," explained Roberto Occhiuto, president of Calabria Region. "It is an emergency solution because I must have, in my toolbox, all the tools to prevent the closure of hospitals."
Cuban doctors are renowned worldwide for their competence and professionalism, but it's the human aspect of the role which appears to drive these medical professionals.
"It is a new experience, I will get to know a different culture and I will help people in need which is the goal of our profession -- helping people who need our help the most," explained one cardiologist.
The first Cuban doctors will soon start working in various Calabrian hospitals. In the meantime, they have been attending a course in Italian to improve their communication skills with local colleagues and Italian patients.
The doctors are studying Italian at the University of Calabria in Cosenza. They are the first of a group of almost 500 Cuban physicians who will work in Calabrian hospitals for at least one year.
Many have families waiting for them at home, but this does not seem to be a problem for them.
"My family knows the selfless and humanitarian education of Cuban doctors and understands the will of our people to give medical help to those countries, whether developed or under-developed, who need it," said one Cuban radiologist. 
"A life saved in one of those hospitals that I should have closed is worth more than a thousand debates, even though this life has been saved by a very good Cuban doctor rather than by an Italian doctor," Roberto Occhiuto said.
Helping save lives -- a mission that Cuban doctors have been carrying out for many years in all corners of the world -- and now here in Europe.