Protest rallies across Europe after Iran executions
Comments
By Euronews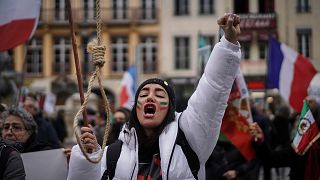 -
Copyright

AP Photo/Laurent Cipriani
Thousands of people took to the streets of European cities on Sunday to condemn Iran's leadership over its crackdown against those who have taken part in protests in recent months.
The protests in Iran began in mid-September, over the death of Mahsa Amini. The 22-year-old woman died after being arrested by Iran's morality police for allegedly refusing to cover her face.
Women have played a leading role in the protests, with many publicly removing the compulsory Islamic headscarf, known as the hijab.
Four men have been executed since the civil unrest began. Iran's judiciary named the two men hanged this month as Mohammad Mehdi Karami and Mohammad Hosseini. All of those condemned have faced rapid, closed-door trials that have been criticised internationally.
In London, protesters waved Iran's pre-revolutionary flag as they marched to Trafalgar Square and carried banners with pictures of demonstrators killed by the Islamic Republic's authorities. They chanted "woman, life, freedom," a slogan of the Iranian movement.
Outside the Iranian Embassy in Rome, demonstrators chanted "killers" and stacked up boxes outside its closed doors containing signed petitions.
The Turin daily La Stampa spearheaded the collection of 300,000 signatures against what it decried as "unjust incarcerations, torture, death sentences of those in Iran demonstrating peacefully to change their own country."
Turin and other Italian cities and towns also saw protests against Iran's crackdown.
Among the demonstrators in Rome was opposition lawmaker Mara Carfagna. In a tweet, Carfagna decried the death sentences and "the brutal repression against women and young people." She asked Premier Giorgia Meloni to press for a European Union initiative when the Italian leader meets in Rome on Monday with European Commission President Ursula von der Leyen.
In Lyon, France, a crowd of 1,000 gathered to protest the regime and to pay their respects to Mohammad Moradi, a 38-year-old Iranian expatriate and PhD student who took his own life in December, leaving a video criticising Iran's leadership and calling for solidarity from Western governments against it.
The protesters on Sunday marched with placards that read "stop executions in Iran" and other slogans. Some travelled from other parts of France.
"Mohammad took his life with incredible courage," said Lili Mohadjer, one of the Lyon march organisers, who addressed the crowd. "His hope was that the media and Western governments continue to support the Iranian people."