Clashes continue in Thessaloniki over FYR Macedonia naming dispute
Comments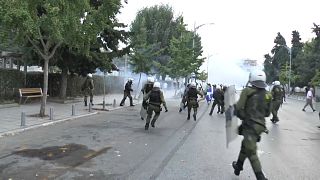 Clashes between thousands of protesters and police continued in the Greek city of Thessaloniki on Saturday night.
The demonstrations were over a deal which would allow the neighbouring Former Yugoslav Republic of Macedonia to call itself the Republic of North Macedonia - ending a decades-old row about the country's name.
Police fired tear gas and detained at least five people after angry crowds lit fires and threw objects near a trade fair where Prime Minister Alexis Tsipras was delivering a speech.
"There is one Macedonia and it's Greek, and that is non-negotiable," said one demonstrator. "History cannot be forgotten. Macedonia is here."
"People will not accept the Prespes lake agreement," said another. "The people are totally opposed."
But - rather than focussing on the deal reached in June over the name - Tsipras was keen to talk about the economy.
"I did not come here to distribute benefits," he said. "I came to distribute, and share with you, a vision for Greece in a new era."
Euronews's Akis Tatsis is in Thessaloniki. He said: "During his speech at the inauguration of the Thessaloniki International Fair, Alexis Tsipras stressed that the agreement with the Former Yugoslav Republic of Macedonia makes Thessaloniki the capital of the Balkans. However on Saturday night for more than three hours the city turned into a battlefield, due to wild clashes."