Aide for South Korea President Moon says government to strengthen income-led growth stance
Comments
By Reuters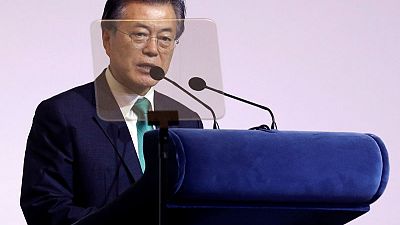 Copyright

EDGAR SU(Reuters)

-
SEOUL (Reuters) – South Korea's chief presidential policy adviser vowed on Sunday to not only stick with but strengthen the government's income-led growth strategy, dismissing increasing calls to ditch the policy following a series of poor economic data.
Poor employment and household income data released in recent weeks raised concerns that President Moon Jae-in government's push for a sharp minimum wage hike and shorter work hours did more harm than good to Asia's fourth-largest economy.
Jang Ha-sung, the chief of staff for policy to President Moon, said at an informal briefing that it was not time to give up existing the policy stance but to strengthen and accelerate it, adding there are more policies yet to be implemented.
"If not for the income-led growth policy, do we then have to go back to the past policy stance?," Jang said, adding the past policy stance of focusing on exports and large businesses failed to boost growth for everyone.
Data released on Aug. 17 showed annual job growth in July was the weakest in 8-1/2 years. Data release on Thursday showed household disposable income in the second quarter shrank in real terms from a year earlier. The lacklustre data has put Moon's government under pressure.
"It will take time for the income-led policy to have an effect," Jang noted, reiterating positive future outlooks in line with the president's message a day earlier.
"The Moon administration is seeking a paradigm shift in managing the economy, for the first time in decades," Jang said. "The government recognises the gravity of the recent employment and income index and will do its best to tackle the current situation by employing all policy tools."
(Reporting by Choonsik Yoo and Hayoung Choi; Editing by Christian Schmollinger)