Paraguay's new president takes office, promises to cut poverty
Comments
By Reuters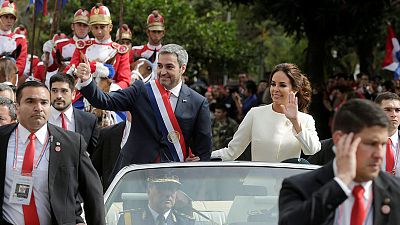 Copyright

JORGE ADORNO(Reuters)

-
By Daniela Desantis
ASUNCION (Reuters) – Former senator Mario Abdo Benitez took office as Paraguay's new president on Wednesday, pledging to cut poverty and fight corruption after winning national elections in April, but major changes to economic policy were not expected.
Abdo, 46, a conservative Colorado party politician, replaces businessman and Colorado party member Horacio Cartes, a former soft-drink and tobacco executive who oversaw one of Latin America's highest growth rates and raised Paraguay's presence in global bond markets in his five-year term.
The presidential ceremony was attended by South American leaders and Taiwan's President Tsai Ing-wen. Paraguay is one of the few countries to maintain regular diplomatic relations with Taiwan.
Cartes, who was not eligible for re-election, tried to resign in July to become a national senator, but Congress rejected his resignation, obliging him to complete his mandate.
"Paraguay will continue to grow, but we need more inclusive economic growth, to get our people out of extreme poverty, to reduce unemployment," Abdo said.
More than a quarter of Paraguayans live in poverty, according to World Bank statistics.
While Abdo campaigned on a promise to continue Cartes' business-friendly policies, he also said the country would pursue more aggressive tax policies to increase government coffers.
The landlocked South American country is one of the world's largest exporters of soybeans.
(Reporting by Daniela Desantis; Writing by Scott Squires; Editing by Susan Thomas)