High turnout at Zimbabwe polling stations
Comments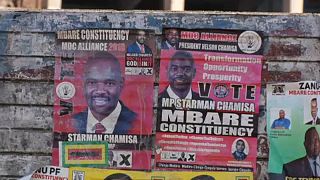 It's a high turnout in Zimbabwe's election without Robert Mugabe being on the ballot paper for the first time.
Many of them are first time voters.
An EU Chief Observer says voting polls were "very smooth" at some but it was "totally disorganised" in others.
Emmerson Mnangagwa, of the Zimbabwe African National Union-Patriotic Front has been president since the military ousted Mugabe in a bloodless coup last November.
The main opposition leader Nelson Chamisa says there's a "deliberate attempt to suppress and frustrate the urban vote" where his Movement for Democratic Change (MDC) party has strong support.
Meanwhile, a frail Mugabe, accompanied by his wife, Grace, shuffled into the polling booth and spent several minutes filling in his ballot paper with the help of an assistant.
A huge crowd gathered outside, some cheering, many booing.
Whoever wins will face the mammoth task of trying to put Zimbabwe back on track after 37 years of Mugabe rule tainted by corruption, mismanagement and diplomatic isolation.