Italy 'turns blind eye' to more than 10,000 hours of illegal fishing: report
Comments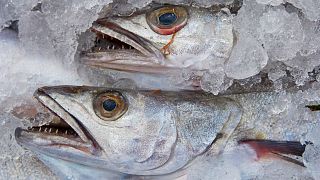 Italy is turning a blind eye to illegal fishing in protected areas of the Strait of Sicily, where more than 10,000 hours of illicit bottom trawling by Italian-flagged vessels have been uncovered, according to a leading marine conservation group.
In a report today, Oceana said 20 Italian bottom-trawling vessels had fished for an estimated 10,000 hours between December 2016 and December 2017 within closed areas of the Strait of Sicily designed to protect young hake — the most overfished species in the Mediterranean.
The findings were based on data from Global Fishing Watch, a website that tracks the movements of vessels using ship-based automated identification systems (AIS).
Oceana warned that the actual extent of illegal fishing in the area was likely to be much worse, with official sources confirming activity by foreign-flagged vessels that don't use AIS and are therefore not included in the data.
Italian officials did not immediately respond to requests from Euronews for comment.
However, Italy was not the only country where illegal fishing was uncovered.
In total, Oceana uncovered 41 potential cases of illegal fishing in the Mediterranean, with issues also identified in countries including France, Malta and Greece.
Governments refused to officially respond to Oceana on whether the operators faced any punishments, but as fishing activity in these areas is still happening, the NGO understands that no measures have been adopted.
"While Mediterranean governments and their leaders are committing globally to fight pirate fishing under the UN Sustainable Development Goals, the very same governments are turning a blind eye to potential cases in their own Mediterranean Sea," Lasse Gustavsson, executive director of Oceana Europe, said in a statement.
"The Mediterranean is the most overfished sea in the world with more than 90% of stocks overfished. By not taking action governments are jeopardising the future of Mediterranean fisheries and the future of the more than 300,000 fishermen and their families who depend on this sea for food and income."
A report by the UN's Food and Agriculture Organization this week found that the Mediterranean and Black Seas were the most overfished sea in the world.