United Nations says Yemen battle could spark famine
Comments
By Reuters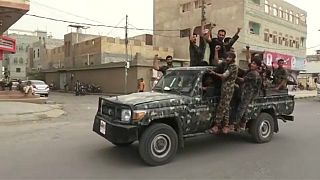 Yemenis headed for Eid al-Fitr prayers on Friday, June 15, amid heavy security as the outskirts of country's main port city saw a battle the United Nations fears could trigger a famine imperilling millions of lives.
Houthi soldiers patrolled the streets as families took their children out to the streets to celebrate the end of the holy month of Ramadan despite the threat of air strikes and battle looming on Hodeidah.
Forces from an alliance of Arab states fought their way to the outskirts of the airport in Yemen's main port city on Friday.
Residents in the city of Hodeidah, controlled by the Iran-aligned Houthi movement, said clashes were taking place in the Manzar neighbourhood, which abuts the wall surrounding the airport. Many Manzar residents fled to the city centre.
This is Yemen's fourth Eid celebration since the fighting began in 2015, when a Saudi-led Arab alliance intervened to restore the exiled government.
The father of one man injured during an air strike in Yemen's main port city Hodeidah said on Friday he spent three days trapped in the Manzar neighbourhood without any food or water and had to treat his son's injures on a bus.
Forces for an alliance of Arab states seized two entrances of the Hodeidah airport on Friday as part of its attempt to take the city in the largest battle of a war that has created the world's worst humanitarian crisis.
In Manzar, a neighbourhood abutting the wall around the airport, battles were fought with apache attack helicopters firing at Houthi snipers and fighters in buildings and schools, according to local residents. Houthi forces had entered homes overlooking the main road to go onto the roofs.
"The fighting was above us and from all sides," said Aly Omar, who was eventually able to reach the al-Thawra hospital in Hodeidah on Friday with his injured son. "Our kids, women and elderly are stuck, starving for three days," he added.
The head of al-Thawra emergency services said the hospital received two bodies and 12 injured people from the Manzar neighbourhood. More people were being treated in the area. Omar said the Red Crescent was only allowed into the area on Friday.
The swift advance was an important early success for the Saudi- and United Arab Emirates-led alliance, which launched the operation in Hodeidah three days ago and says it can seize the city quickly enough to avoid interrupting aid to the millions facing starvation.
The United Nations, which struggled but failed to find a diplomatic path to head off the assault, fears the fighting will cut off the only lifeline for most Yemenis. Around 22 million depend on aid and 8.4 million are at immediate risk of starvation