Spain's PM to face vote of confidence on Friday
Comments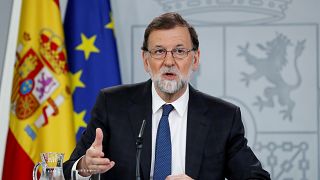 Spain's Prime Minister Mariano Rajoy will face a vote of confidence in his leadership on Friday, June 1, after 29 people linked to his centre-right People's Party were convicted of corruption offences.
The opposition socialist party tabled the no-confidence motion in the parliament which could only be stopped if the Prime Minister resigned or the socialists withdrew it.
The Prime Minister said a no confidence motion would damage Spain's economic recovery and stability, only days after the 2018 budget was approved.
Spanish Socialist Workers' party (PSOE) leader Pedro Sánchez said the corruption case had damaged the country's democracy and further diminished Mr Rajoy's credibility.
He has already been under fire for his handling of the secession crisis in Catalonia, with many voters turning away from his People's Party (PP) to the Citizens Party (Ciudadanos).
Citizens leader, Albert Rivera said Spain needed a strong government that could deal with the Catalan separatist challenge.
"I certainly think that at this moment, those who would benefit most from a weak government, whether by corruption, whether by separatism or populism, would be precisely these, the separatists and the populists," he said.
Mr Sanchez said the no-confidence motion aimed to end what he described as a corruption thriller into which the People's Party has plunged Spanish politics.
Mr Rajoy said he would fight the vote and finish his four-year term, ruling out early elections.