Kosovo ministers fired over Turkey extraditions
Comments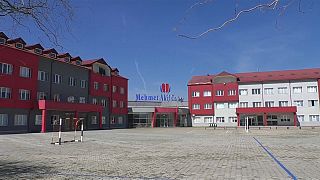 Kosovo Prime Minister Ramush Haradinaj has dismissed the interior minister and the secret service chief after the arrest and extradition to Turkey of six Turkish nationals.
The prime minister had said he was not informed about the operation to deport the six, who were arrested in Kosovo on Thursday over links to schools financed by the Fethullah Gulen movement that Ankara blames for a failed 2016 coup.
'The entire operation - revoking their residence permits, detention, emergency deportation and the secret extradition to Turkey of the six Turkish citizens from Kosovo territory - was conducted without my knowledge and without my permission', Haradinaj said in a statement. It's not known when replacements for Interior Minister Flamur Sefaj and secret service chief Driton Gashi would be named.
At its peak, the Gulen movement operated schools in 160 countries from Afghanistan to the United States. Since the coup attempt, Turkey has pushed allies to close Gulen-run establishments.
Kosovo has faced pressure from Turkey in past weeks to take action against schools funded by the Gulen movement. Ankara said the six arrested in Kosovo on Thursday were responsible for recruitment in Gulen's network and helped people accused of connections to the network leave Turkey during a security crackdown in which tens of thousands of people were sacked from their jobs or jailed over alleged Gulen links.
Ankara accuses Gulen, a U.S.-based Muslim cleric, of orchestrating the July 15, 2016 coup attempt and has declared his movement a terrorist organisation. He denies any connection.