Likud calls on Israeli government to annexe Jewish settlements in West Bank
Comments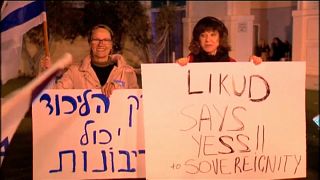 Prime Minister Benjamin Netanyahu's Likud party has unanimously called on legislators to effectively annex Israeli settlements in the occupied West Bank, land Palestinians want for a future state.
The move could streamline procedures for their construction and expansion. The land is currently under military jurisdiction.
"Now, we will promote this right and this sovereignty, we will not do it through our power, we will do it as you quite rightly say: through the strength of our historical right, our religious right, our moral right, our biblical right and the time has come to manifest this right," said Israel's Minister for Public Security Gilad Erdan at a party congress.
The expansion of Jewish settlements on land seized from the Palestinians in the 1967 war is a major obstacle to peace talks, and their construction and growth until now has served to isolate Palestinian communities, making a future Palestinian state with coherent borders more difficult.
The UN considers the land as "occupied", but a formal annexation would see Israel claim it entirely for the first time. The Palestinians have long stated annexation of any occupied lands was a red line Israel should not cross at its peril.
However Israel's politicians appear to have lost patience, and seem supported by the White House in taking a more agressive line.