German far-right AfD celebrates new leadership duo
Comments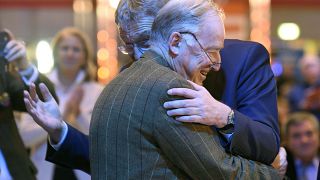 After success in September's elections, Germany's anti-immigrant Alternative for Germany (AfD) has something else to celebrate - a new leadership duo.
Incumbent leader Jorg Meuthen was re-elected at a party congress in Hannover on Saturday. He has been joined at the party's helm by Alexander Gauland, who also received backing from delegates at the AfD's first conference since entering parliament for the first time
For Gauland, it is a return to the post he had held until 2015.
The 76-year-old sparked outrage before September's general election when he said Germans should be proud of what their soldiers achieved in two world wars.
That didn't stop the AfD winning 94 seats in the Bundestag.
Gauland replaces Frauke Petry, who quit to become an independent member of parliament.
Her sudden departure two days after the AfD became the first far-right party to win seats in the Bundestag since the 1950s exposed rifts over whether the party should ditch rhetoric including statements saying Islam was not compatible with the German constitution. Founded in 2013 as a vehicle to oppose euro zone bailouts, the AfD was polling at around 3 percent nationally two years ago on the eve of the refugee crisis.
The arrival of more than 1.6 million people seeking asylum in the two years to the end of 2016 has helped it morph into an anti-immigrant party that now has seats in 14 of Germany's 16 regional parliaments.
Polls suggest it will win seats in next year's regional elections in the southern state of Bavaria and the western region of Hesse, which would give it a foothold in all of Germany's state parliaments.
Anti-AfD protesters have been out in force in Hannover this weekend.
Thousands marched, carrying placards reading "Hanover against Nazis" and "Stand up to racism".
Anti-fascists denounced the AfD, poised to become Germany's main opposition should Chancellor Angela Merkel's conservatives join forces with Martin Schulz's Social Democrats in a 'grand coalition'.
Clashes broke out between some demonstrators and police on Saturday night, with several people injured in near freezing temperatures and at least ten detained.
with Reuters