Armenia: Ruling party well ahead in parliamentary election (exit polls)
Comments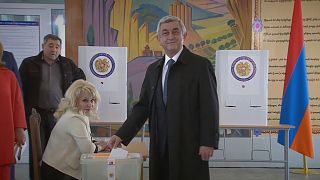 The ruling Republican Party is leading in a parliamentary election in ex-Soviet Armenia, an exit poll showed on Sunday.
The exit poll by Baltic Surveys/The Gallup Organization, reported by Armenian television, put the Republican Party on 46 percent of votes cast. The opposition Tsarukyan's Alliance trailed on 25 percent.
Armenia is voting for the first time in elections to usher in a new parliamentary system of government.
President Serzh Sarksyan's role will become largely ceremonial, with the prime minister getting greater powers.
Yet critics see the change as an effort to prolong Sarksyan's political life. With time almost up on his presidential term limit, they say his plan is to swap roles.
The chief rival of Sarksyan's Republican Party in Sunday's vote for a new parliament is an opposition alliance led by Gagik Tsarukyan, one of Armenia's richest men.
He has pledged to cut gas and electricity prices and help civil servants and pensioners.
Many Armenians accuse the government of corruption and of mishandling the troubled economy.
And with claims of voting fraud already emerging, as they did in the 2015 referendum that approved the country's constitutional reform, the fear is that unrest could erupt once the election outcome is confirmed.
with Reuters