On Wednesday Pope Francis was treated to a brief performance by the Rony Rollers Circus troupe in Saint Peter's Square at the end of his weekly audience.
He had earlier called for urgent humanitarian aid for the starving people of South Sudan, saying that millions of people, including children, were being condemned to death by hunger.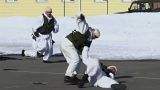 Russian soldiers held military exercises in Murmansk on Tuesday (25 April) in order to highlight the army's readiness to fight in severe weather conditions.