Turkey and Russia say they're pushing for a nationwide ceasefire in Syria
Comments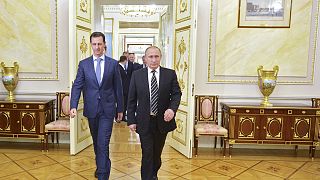 After six years of civil war, could a nationwide ceasefire now be possible in Syria?
Moscow and Ankara are working together to organise a fresh round of peace talks. But Russian President Vladimir Putin has made clear they will not include the United States or the United Nations.
"The next step is to reach an agreement on a total ceasefire across the whole of Syria. We are conducting very active negotiations with representatives of the armed opposition, brokered by Turkey," he said at a press conference in Japan.
The talks, which could take place in the Kazakh capital Astana, will be in addition to intermittent, UN-brokered discussions ongoing in Geneva, Putin said.
Turkey confirmed its wish to secure a ceasefire. Foreign Minister Mevlut Cavusoglu said he'd entered into talks with his Iranian counterpart.
"I spoke to Iranian Foreign Minister Mohammad Javad Zarif a short time ago. Our officials are talking to their Russian and Iranian counterparts as well as people on the ground to resolve this without further problems, but our wish is to secure a ceasefire in Syria," he affirmed.
The alliance between Turkey, Iran and Russia is likely to stop there. While both Moscow and Tehran back Syrian President Bashar al-Assad, Ankara's reasons for supporting a truce appear to centre around a successful transition of power in Syria, away from his governance.
Despite apparent unity between Russia and Iran, rebels have blamed the latter and the Shi'ite groups it supports for obstructing Moscow's efforts to put into motion the evacuation of eastern Aleppo.