Colombian Senate approves FARC deal
Comments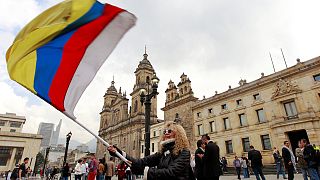 The Colombian Senate has approved the country's revised peace accord with the FARC.
The initial agreement with the rebel group was rejected in a national referendum in October.
#PlenariaSenado aprueba con 75 votos a favor 0 en contra proposición para refrendar #NuevoAcuerdoDePaz con FARC_EPueblo</a></p>&mdash; Senado Colombia (SenadoGovCo) November 30, 2016
What has changed?
President Juan Manuel Santos says the new deal includes changes demanded by those who rejected the initial plan.
The referendum's "No" campaign, led by former President Alvaro Uribe, said the revised deal was too lenient on FARC members.
What happens now?
The revised agreement will go to the lower house of Congress for approval.
The background
The peace agreement with the FARC is aimed at ending five decades of armed conflict.
More than 260,000 have been killed and millions internally displaced by the fighting.
Four years of talks in the Cuban capital, Havana, ended with agreement between the two sides earlier this year.
A minute's silence
Senators observed a minute's silence before the session for the victims of the plane crash near the city of Medellin on Monday.