EU Commission President warns Europe not to lecture Turkey over migration
Comments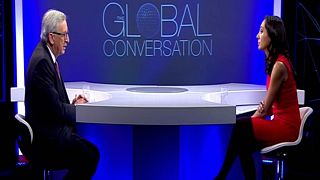 In an exclusive interview with euronews EU Commission President Jean-Claude Juncker has warned Europe not to lecture Turkey on migration.
I would like Europe to refrain from giving lessons to Turkey

EU Commission President
The comments came as the European parliament voted to suspend Turkey's EU membership talks.
Turkish President Tayyip Recep Erdogan then threatened to rip up the migrant deal which could see Turkey again allowing tens of thousands of migrants and refugees to enter the EU.
Jean-Claude-Juncker: Turkey is an important partner not only because of migration crisis – this aspect is obvious – but because it houses on its territory more than three million migrants and refugees, which Europe for its part doesn't do. So I would like Europe to refrain from giving lessons to Turkey on that matter. Turkey does much more than Europe, as do Jordan and Lebanon. So, we need to be humble when we speak on those issues.
euronews: But the question now is, does Turkey want to meet all the conditions that need to be met to become an EU member? I think Turkey hasn't asked itself that question, and because the question wasn't asked, there's no answer either.
euronews: But can you have a dialogue with a more and more authoritarian President?
Jean-Claude-Juncker: I must have a dialogue with many people, even those whose company I do not appreciate much. We, the European Union, have links with regimes that are odious. And nobody asks us about it. Everybody's worried about Turkey but nobody's talking about Saudi Arabia. We have relations with all dictatorships because we need to organize, to co-organize the world. And with Turkey and its president I have regular meetings, with the president we have man to man conversations from time to time. I've known him for the last 17-18 years. I know him, but he also knows me.
euronews" I then have another question, from a web viewer, Robert Biddle, who asks: "If Marine Le Pen was elected (French President in 2017), would that be the last nail in the coffin of Europe?
Jean-Claude-Juncker: This is an hypothesis that I won't contemplate.
euronews: Which one?
Jean-Claude-Juncker: The hypothesis that Madame Le Pen would be future President of French Republic, she won't be.