Thousands protest against a proposed child sex law in Turkey
Comments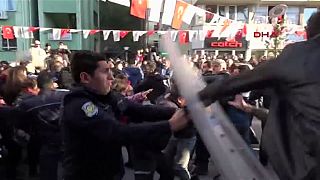 Thousands took to the streets in Turkey to protest against a bill proposed by the ruling party, which critics say would legalise rape.
If passed, the law would allow men who sexually abuse girls under 18 without 'force, threat or any restriction on consent', to avoid conviction if they marry them. The protesters were clear they felt it would legitimise child rape.
One protester said, 'We are not going to let the bill pass, we are going to protect our children's future.'
The government argues that it would clear up legal challenges caused by the practice of child marriage.
MPs are due to resume the debate on Tuesday, before a second and final vote.
Several UN agencies slammed the legislation, saying it was akin to an amnesty for child abusers, adding it could expose victims to further suffering at the hands of their abusers.