At least 13 killed in India market attack
Comments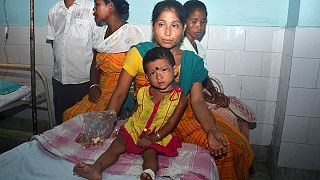 At least 13 people have died after gunmen in military uniforms opened fire on crowds at a busy market in northeast India.
Police have said that rebels from a faction of the National Democratic Front of Bodoland carried out the attack, which occured in Assam – a state in the foothills of the Himalaya.
PHOTOS | Terrorists open fire at civilians near Assam's Kokrajhar area, encounter underway, reports ANIpic.twitter.com/jtEh0G2e1M

— Times of India (@timesofindia) August 5, 2016
The assailants unleashed a hale of bullets and flung grenades into the crowds on the outskirts of Kokrajhar, killing at least 13 people and wounding a further 15.
One gunman was killed in the ensuing gun battle with security forces.
Head of Assam State Sarbananda Sonowal was swift to announce monetary compensation to victims of the attack.
A family of one of the victims will receive 500,000 rupees for their loss ($7,470).
Separatist violence
The National Democratic Front of Bodoland (NDFB) is an armed separatist group which seeks the establishment of a sovereign state for the Bodo people of remote northeast India.
Although the area where the attack occurred is autonomous to a certain extent, the group wants Bodoland to be given full statehood.
In 2014, a rebel faction of the NDFB killed at least 62 people in Assam.
Hundreds of thousands of people remain displaced from their homes as a result of the violence.