President Hollande speaks of "severe Islamist threat" following priest murder
Comments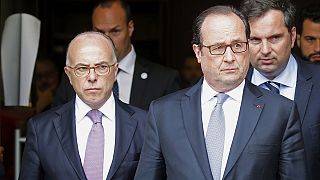 Following the murder of an elderly priest in a church in northern France by two men thought to be linked to ISIL, French President Francois Hollande has warned that the militant threat in the country has never been so severe.
This war will be long. It is our democracy that is targeted, it is the bulls-eye and it will be our shield.

French President
In a brief televised address the French leader talked of a war against Islamist militancy.
"I also owe you the truth: this war will be long. It is our democracy that is being targeted, it is the bulls-eye and it will be our shield. It is our unity that makes us strong so French men and women, let us form a blockade, that is how we will win the war against hate and zealotry."
Ce qui est visé c'est notre démocratie, elle est la cible, elle sera notre bouclier. C'est notre unité qui fait notre force.

— François Hollande (@fhollande) July 26, 2016
It is now believed the two attackers had been carrying a "fake explosive device covered in aluminium foil" along with hand-held weapons when they entered the Catholic church in Saint-Etienne-du-Rouvray.
After slitting the throat of Father Jacques Hamel, in his 80s, some of the congregation were able to escape and alert the police, who sent in a team specialised in dealing with hostage situations.
Three of the hostages were used as human shields to block the police from entering the church. When they were eventually let go, the two attackers followed them out of the church shouting "Allahu Akbar" before being killed by police.
The news agency Amaq, which is affiliated with ISIL, said two of its "soldiers" had carried out the attack.
After meeting the President and France's interior minister in Paris, The Archbishop of Rouen, Dominique Lebrun spoke of the difficulty of observing Christian teachings in the face of such brutality.
"They said to love, and I say, love your enemies, and even pray for them, when I read that sentence I say, 'love your enemies, is that possible?' I will try, at least I will pray for them."
The head of the Church of England, the Archbishop of Canterbury added his thoughts:
Evil attacks the weakest, denies truth & love, is defeated through Jesus Christ. Pray for France, for victims, for their communities.

— Justin Welby ن (@JustinWelby) July 26, 2016
Tuesday's attack in the sleepy Rouen suburb comes less than two weeks after a Tunisian ploughed a truck into a crowds in the French Riviera city of Nice, killing 84 people. ISIL claimed that attack.