Division within Germany's ruling coalition over Merkel's decision to allow prosecution of comic
Comments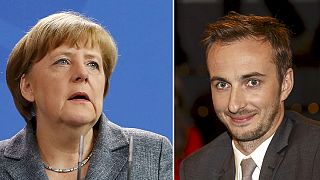 The controversial case of German comedian Jan Boehmermann has caused division within Germany's ruling coalition and accusations that Angela Merkel is not sticking up for free speech.
The Chancellor has caused a storm by deciding to allow prosecutors to pursue a case against the comedian after he mocked the Turkish President in a clear case of satire.
An obscure German law bans insults against foreign leaders but it lets the government decide whether prosecutions should go ahead.
The German Foreign Minister, Frank-Walter Steinmeier, who is from Merkel's coalition partner the Social Democrats, confirmed that his party voted against the legal move.
He says there was a tie on the issue in the government and Merkel had the decisive vote.
Merkel told reporters: "Granting this legal action for insulting a foreign head of state means neither a prejudgment of the person concerned nor a decision about the limits of freedom of art, the press and opinion."
Merkel has been a driving force behind an EU migrants deal signed with the Turkish President.
The Chancellor was placed in an awkward position when her Turkish counterpart called for action in the case.